Harvey Campbell / S1 Lifer Helmet
"I like how the S1 Lifer Helmet sits low on my head and doesn't look to bulky, I have alot of hair so it's hard to find a quality helmet that fits really well and provides max protection." - Harvey Campbell
Interview
Name: Harvey Campbell
Age: 10
Where were you born? And where do you live no?...
I was born on the Central Coast of NSW Australia
When / how/ why did you start skating? ...
I started skating in 2016 when my local park 'Batoyard' was built. Started skating transition with dad pushing me around then started watching Bones Brigade vids and it got me hooked on Vert, bowl & transition skating.
What are some of your earliest/ favorite memories of skateboarding? ….
Dropping into the big bowl for the first time was definitely one of earliest memories & then travelling to Bondi Bowl which is such a RaD place and getting my first air!
What are some of your favorite or most memorable sessions or skate related experiences from the last few years? ….
Travelling to the U.S in 2019/2020 & skating the Nude Bowl & all the sick parks between San Francisco & San Diego it was so sick!! Another wild moment was landing my first McTwist on Vert.
What have you been up to lately? ….
Skating a heap up & down the East Coast of Oz hitting parks, spots, Megaramp, competing in a few comps & doing the 21st Annual Belco Bowl Jam & 20th Annual West Hobart Bowl Jam. I've also been hyped on skating old crusty parks & got to skate the Corio 'Paint Tray' which turns something like 40 years old this year & West Hobart Bowl which is like 42 yo.
What's in store for 2022? (new parks? new tricks your working on? skating?/contests? ) ….
Heading over to LA & SoCal for a month in a week or so to hopefully skate some pools, ditches, CA TF, Vans Outdoor & a heap of other places - can't wait!!Will also do all the King of Concrete events back here in Oz. Working on quite a few new tricks but will tell you when I get them Hahar…….Oh yeah and I want to learn how to play Bass Guitar this year also.
What are your Top 3 ?
Foods: ….
Meat Pies, Mangoes & Mint Icecream
Things you enjoy when your not skating: ….
Playing with and breeding my 'Critters' - spiders, scorpions, centipedes & stick insects.
Chilling with my pet snake 'SALT' which is an Albino Carpet Python.
Drawing and anything arty - I mainly draw portraits of my snake & scorpions mixed with zombies & cactuses.
Dreams / Goals: ….
Dream would be to travel the world skating and meeting new mates. Thrasher cover would also be sick‼️
Goals would be to one day turn pro but for now just be the best skating I can be and have a RaD as time doing it!!
Movies:….
Happy Gilmour for sure & IT because it scares the crap out of me.
Books: ….
I'm into 'Diary of the Whimpy Kid' because it's super funny & the art is cool.
Places you would like to visit someday: ….
South America would be sick so could see all the cool Critters & Snakes.
What is your current set up? (dims / dimensions)
Skate Deck: Santa Cruz 7.8" x 13.5wb
Trucks: Independent Hollows 129's
Wheels: Bones SPF 56mm for park or Spitfire OG Classics 54mm for crust or street
Bearings: Bronsons
Grip: …. MOB
Helmet: S1 Lifer - Black Matte w Checker
Shoes: Vans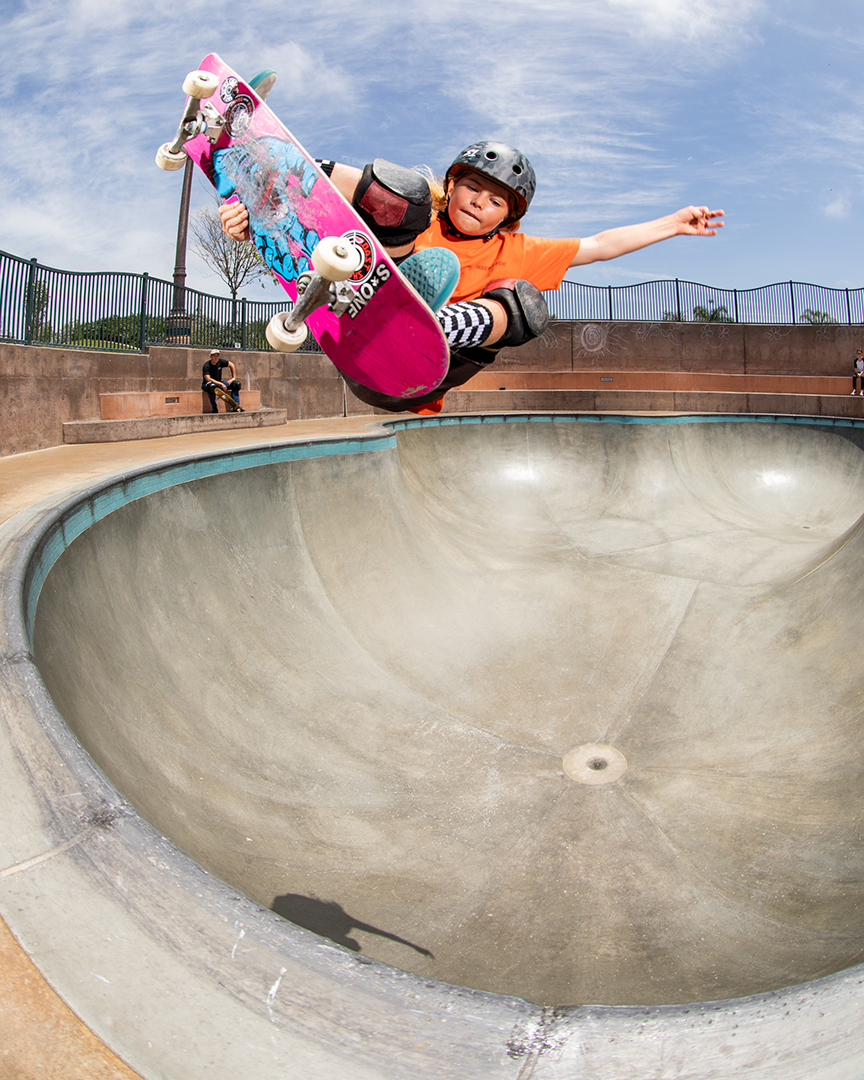 www.s1helmets.com