Interview: Malcriada Media - Roller Skating in Las Vegas
LAS VEGAS ROLLER SKATING!
Every year a large number of skaters gather in Las Vegas from all corners of the world for the largest roller derby / roller skate convention in the world called RollerCon! Since 2005 this event has brought together the biggest stars of global roller derby in a series of fun themed matches with the excuse of playing and learning in an environment where something is always happening.
Over the past few years park roller skating has become part of the celebration with the skatepark tour organized by legends of our sport. Additionally, for the last couple of years there have been ramps for lessons, demos and contests inside the convention center.
Since we know a little more about this great event, I would like to highlight something that particularly caught my attention at my first RollerCon, the roller skate scene in Las Vegas is beautiful! I had the opportunity to meet @malcriadamedia, one of the many groups present at the meetups. Malcriada Media is dedicated to documenting the local scene and creating original content in the form of zines, videos and photographs from the hands of roller skaters representing all the locals ripping up the streets and local skateparks!
Anny from Malcriada Media, whom we collaborated with to portray a bit of the Las Vegas roller skating scene answered some short but sweet questions so we can learn more about Malcriada Media.
Yasmeen - Photo by Anny Ayala
When and how did Malcriada Media started?
Malcriada Media started at the end of 2019. We both love art, video, and photo, and wanted to make a Little space where we could have our own styles and work come together, without limitation.
Who is part of it?
MM is Jennifer and I (Anny). We've known each other since the 4th grade. We have always worked with various types of art, including painting, collage, and music. We learned how to skate together at the end of 2017.
Flor - Photo by Anny Ayala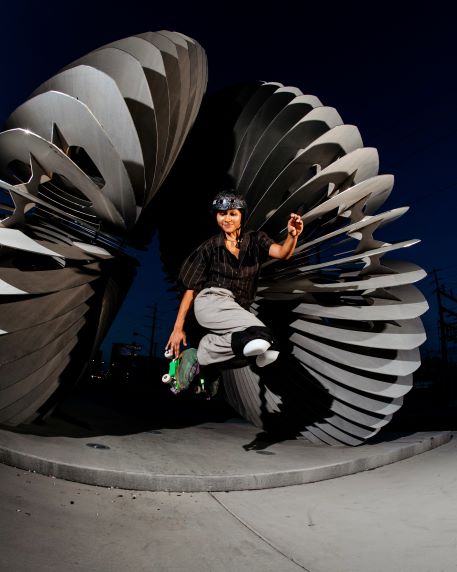 What's next with Malcriada Media?
Anny is putting out our zine, "206 Zine" at the beginning of October. This will be the 3rd issue and it will be available through DM or Death Drop Roller Skate Shop in Vegas. Jennifer is working on a new roller skate video, which should be on our YouTube by the end of October.
What's important to highlight from the Las Vegas community?
The community here has so much fun with skating. No matter what your skill level is, you're encouraged to try new things and are supported in the process. This past year, there has been support on all wheels (blades, skateboards, scooters, bikes) and it's nice seeing everyone roll together with a good attitude.
Mayra - Photo by Anny Ayala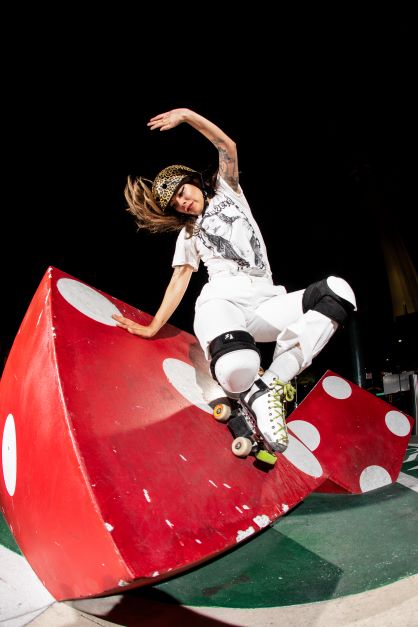 The deeper we dig into our conversations with my friends, I recognized that several share a similar background: daughters of immigrants, mostly Latinos. It was curious to feel at home talking to them and how a city so focused on entertainment, lights and shows has such a humble and supportive community. It was a pleasant surprise and from there we wanted to collaborate with @spooook.y to create visual content that represented this interesting community and its skaters.
Overall, the best thing about RollerCon was re-connecting with friends from all over the world, having a space to take skating "not so seriously" and learning from different experiences, not to mention the pleasant surprise of connecting with people who are creating quality content for the memory of your scene.
Skaters portrayed:
Mayra @sk8there
Yasmeen @xnoxcompliancex
Flor @hotwheeelzzz
Check out Malcriada Media on Youtube here: