​Silvia Kambouridis on Art and Roller Skating
Silvia Kambouridis on Art and Roller Skating
There is a strong connection between art and movement: self-expression is the source of the creativity that surrounds the skate world. The way we experience and see the world is strongly tied to our environment, how appreciative of it we are and the possibilities we see in a blank space where we can create!
We've had our eye on the incredibly talented Silvia Kambouridis for some time now and are super excited to chat with her! Silvia, also known as @silvkam on Instagram, is part of the new generation of roller skaters having only been on eight wheels for less than 3 years, her technicality and smoothness is bringing a unique modern style to the scene! Her range covers from grinds to flips and from crunchy streets to big bowls. It is so inspiring to see how roller skating has evolved and to see what the newer generation is bringing to roller skating and how they are integrating and learning from the past and putting their own unique spin on it and taking roller skating to the next level!
@silvia.squiggles is Silvia's art project, where wavy and flowy forms draw paths on different surfaces: from paper, clothes, helmets and more! In this interview we will find out a bit more about how skating and art are co-related and Silvia's experience with them:
Let's start with a little introduction:
My name is Silvia, she/they, @silvkam and @silvkam.art on Instagram. I have been skating for about 2 and a half years and I started seriously painting in the last couple years, though I've been artistic my whole life.
How does skating and art relate for you?
The skate world is very artistic- so many skaters make various different types of art and it's really cool because we all love to support each other in it! I think that being a part of this supportive and creative community helped boost me to start making more art and start to sell it.
How would you define your skate style? Where does your inspo come from?
I work a lot on flow, so I would say my skate style is flowy and creative- I don't plan my lines, I usually just drop in with a couple ideas and see where the bowl or spot takes me.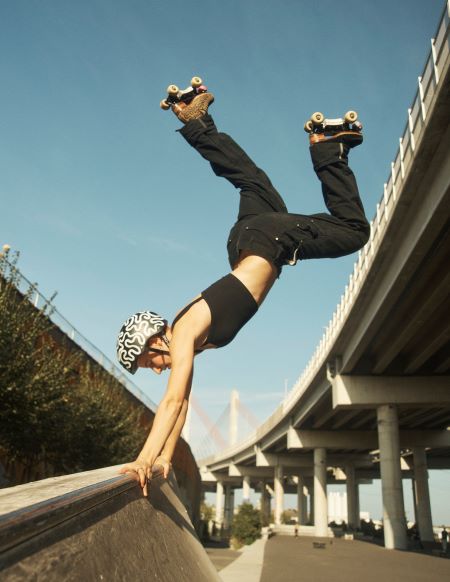 How would you define your art style? Where does your inspo come from?
I've always loved line art, and also been drawn to fashion and clothing art specifically. I approach painting similarly to skating- I stare at a piece of clothing for a while, then get out my brush and go, often with a plan but with ideas swirling in my mind. I'm inspired by everything around me!
What's the easiest way to get an art piece / custom request from you?
DM me! @silvia.squiggles
Any advice you would like to share to skaters and artists who are reading this?
It took me a while to build up the courage to buy paint and brushes but once I did, I had so much fun and never looked back! Take that first step in creating art- the rest will come to you. Also- there's no rules! You can make art out of anything that you want- clothing, skates, helmets, I even paint my buzzed head!
-Silvia
Make sure to catch her first video part "HOME" edited by @skatefantom / @rollergoolie (https://youtu.be/Td16MflkTdc ) can't wait to see what's next for Silvia!