Gear Check with Carolina "Caro" Hernandez - Roller Skater
Carolina is part of the early CIB generation who were part of an underground movement of roller skaters venturing into skate parks and helping to evolve the sport of roller skating and take park roller skating to the next level. Caro is still pushing those levels today and is known for her fast, aggressive lines in big bowls. Caro breaks down her roller skating story and what gear she uses to shred.
Q&A:
Q: Tell us your Roller skating story and how long have you've been roller skating for?
A: I started roller skating around my 16th birthday, a friend of mine joined a roller derby team and told me about it. I used my savings from my 15's party and bought a pair of cheap skates, a helmet (fun story, it was a S1 Helmet, it had the old logo with the hammers) and a pair of pads. A month later I joined Bogotá Bone Breakers, with whom I learned to skate and played numerous tournaments locally and abroad.
Around 2014 my friend Moonsun told me about CIB and that she wanted to start a chapter in Colombia. We started park skating, went to the RDWC in Dallas, met Michelle Estrojen and Lady Trample, and fell in love with ramp skating.
Eventually I started dedicating more time to park skating and quit derby after numerous injuries. Eventually I got sponsorship's that keep me rolling to this day! I'm really grateful for this because getting quality gear in Colombia is really hard and beyond expensive. I try to travel a few times a year inside Colombia and abroad to connect with more people through skating.
It's been 10 years on wheels, and around 7 dedicated to park skating.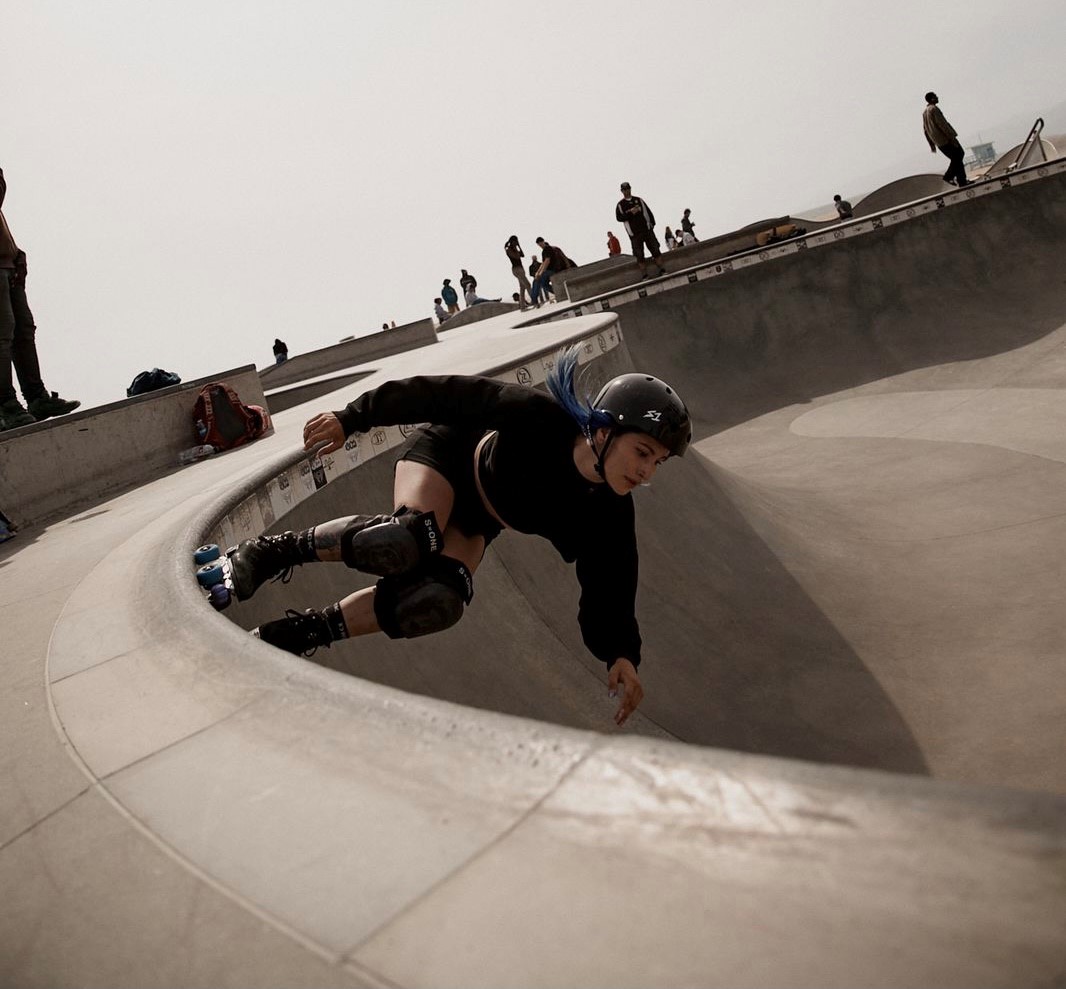 Q: What is your favorite type of terrain to skate, what are your favorite spots to skate and if you could only skate one place where would it be and why?
A: My favorite is smooth concrete especially bowls. I enjoy the sense of freedom, flow and speed you can gain while carving, my mind is so clear and I am so focused on going faster that I feel in control of my body, I just love it! If I could just skate one place... it's hard to pick, Colombian skate parks have gotten so much better and there's a lot to do. I'd say Tercer Milenio, it's my local park and has so many things to do that I would never be bored.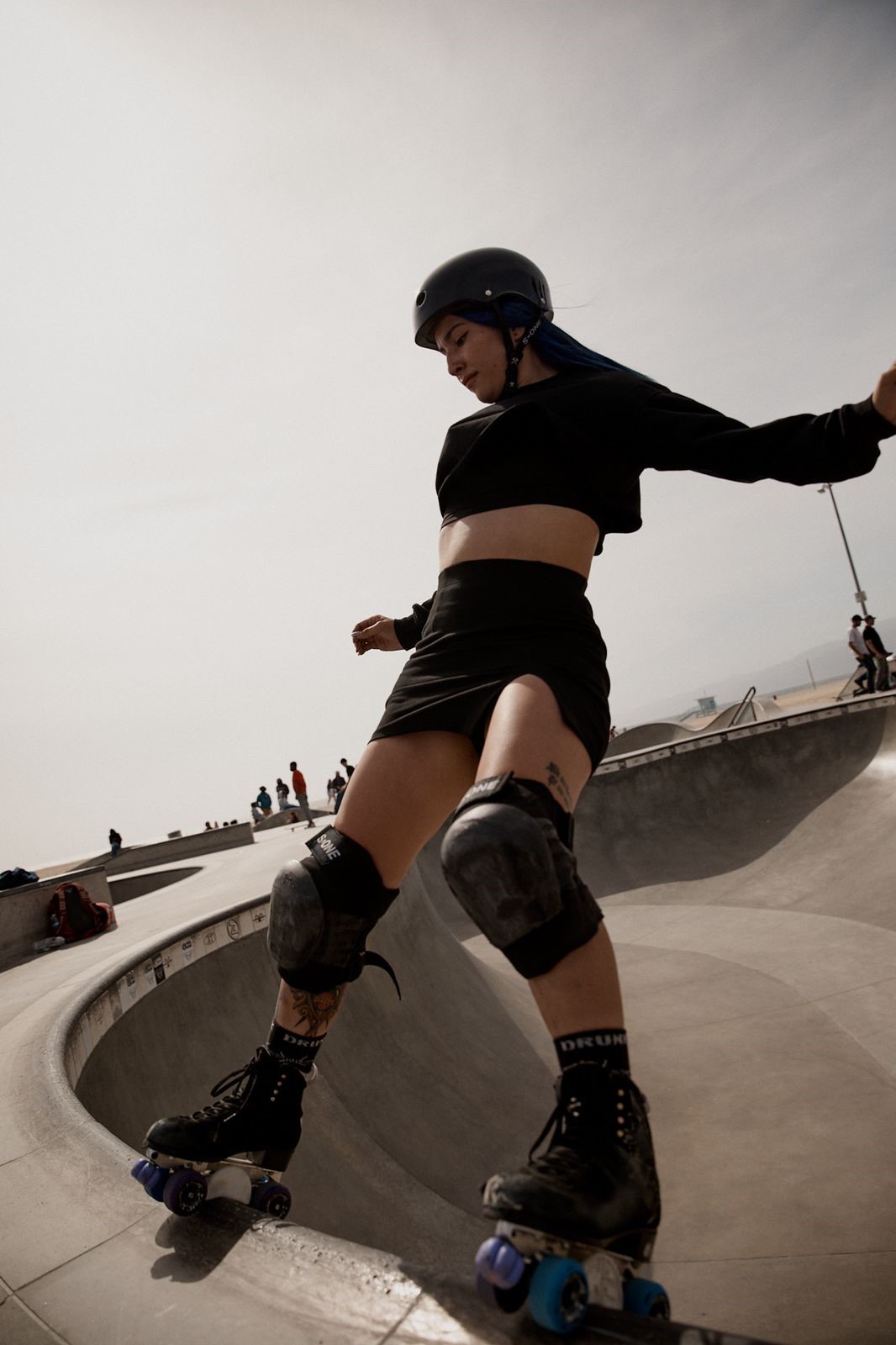 Gear List of Caro Hernandez Roller Skater:
Skates: Moxi Panthers Boot, these are not too expensive, stiff and really good quality skates for park skating, these really surprised me, the ankle support is great.
Plate: Powedyne Reactor Pro with medium cushions, hard cushions make it so hard to turn and pump, I like medium better, and this plate is light and durable
Trucks: Narrow standard trucks from the reaktor plate, I wanted to do grinds on narrow first and I love the speed
Wheels: Roller Bones Estro Jen's Signature Wheels 62mm, I like this formula for bowl skating, it works amazing on polished concrete.
Sliders: CIB Slide Blocks, I've worn those for almost 3 years and the shape and material are really good for metal coping, ledges and pool coping. I'm a size 7 in Moxi and wear size Large. I think it's better to get a Medium or Large and adapt them to the plate because the small ones are way too small (they work on size 4).
Bearings: Swiss Bones Bearings, I feel these are really fast.
Toe Stops: Moxi Brake Petals, perfect size and not too grippy so I wont trip.
Helmet: S1 Lifer Black Gloss Roller Skate Helmet and S1 Lifer Black Gloss Glitter Roller Skate Helmet are my favs, the glitter helmets age really well, you can barely see the scratches!
Pads: S1 Pro Knee Pads, I love that these are built in one piece so they won't move.
Clothing: Anything black, and I love wearing my Sick Drunks Socks.
Shop Sponsor: Wicked Skatewear! They are rad, really helpful and super kind!
You can follow Caro here:
On Instagram at: @986_____
On Facebook at: https://www.facebook.com/x986x