Lester Kasai
What year were you born? 1966
Where did you grow up? Anaheim, California
Tell me your skate story – when you started skating, different phases, what boards, what influences, memories of spots when your a kid, teen, young adult or adult:
Ok so here is a little bit of my story of how I remember it. I started skating in 1977. Me and my cousin Terence found a Black Knight skateboard in a trash can near my house. We rode that board up and down the street and got stoked on skating. Not long after that, we went to a couple of skateparks nearby called Concrete Wave and Skatopia. These parks were wonderlands of bowls, banks and snake runs. We couldn't believe how amazing the landscapes looked and how much fun these parks were. We also heard about a city park in Anaheim that had concrete moon craters that were skate-able which was later known as Sadlands. I learned most of my tricks at Sadlands and I made many friends there.
My first real skateboard was a Skatopia oak board with a wedge kick tail, Apex trucks and Skatopia wheels. My mom bought it for me at a local skateshop called Sun California in Anaheim. Some of my most memorable boards I rode as a teen were a Powell Peralta Ray Bones, a Sims Dave Andrecht, a Powell Peralta Alan Gelfand, a G & S sidecut and a Kryptonic foam core urethane bumper deck.
One of my teenage highlights was seeing the Pepsi team do a demo at my middle school in 1979. I was awestruck on how cool they were. It was absolutely amazing seeing Richy Carrasco do a bunch of flat ground 360's. Check out videos of him doing 360's on the internet. It's impressive.
Overall, I think the most influential skater for me was Neil Blender. Neil lived near me so I would see him from time to time at local skate spots. He was the first guy I saw do an invert. Neil's skating was seriously magical and ultra smooth. He's the best skater of all time in my book.
I also spent many hours at the Big O skatepark in orange. They had an awesome capsule pool and clover pool. That is where I got to see many rippers like Duane Peters, Freddie Desoto, Carabeth, Steve and Mike Hirsch, and Jim Gray. The first pro skate contest I saw was the Gold Cup in the capsule pool at Big-O in 1980. That contest was so intense and inspiring. Everyone was ripping so hard. Ray Bones and Alan Gelfand were a couple of my favs in the contest. I was left in a dumbfounded amazement after watching Dave Andrecht blasting huge backside airs at that contest. I've never seen anyone go that high before. I figured if I bought his board I could do high airs too... nope... didn't work.
During the early 80's, I did a lot of street skating. Mostly skating curbs and parking blocks doing boardslides and slappies for hours on end. We pretty much would skate whatever we could find like banks, ditches and backyard pools. My cousin Terence and I built a quarter pipe at the end of my driveway. We built it with a couple sheets of plywood and nailed it to a Black and Decker work bench. It was so funny and super janky. We even screwed in skateboard rails at the top of the quarter to use as coping. At one point, I had a small vert ramp in my backyard. It was maybe 8.5 feet high, about 12 feet wide with pool coping on one side and pvc coping on the other. I remember waking up one morning and my mom was in the backyard doing fakies on the vert ramp with a cigarette in her mouth... so funny.
My mom was always very supportive of my skating. She would buy me skate stuff and drive me to all the skateparks. Not to mention that she let me have a vert ramp in her backyard. Even my grandma was into it. She would actually make me corduroy skate shorts.
Some of my most memorable local spots were Salk ditch, Swan pools, the Fishbowl, Dan and Ruth's, Del Taco curb, Tiki ramp, La Mirada ramp, Yorba Linda ramp and Sadlands.
Another skatepark I spent a lot of time at in the early 80's was Skate City skatepark in Whittier. I would skate there with guys like Blender, Mountain, Lucero, Steadham, Hago, Armijo, Matta, Grosso and Nash. There were 5 different pools with coping and tile, a full pipe that was half concrete and half metal, and some small bowls and banks. We seriously had the best sessions there and just goofed around most of the time.
In addition to the skateparks in the early 80's, we had a couple of amateur competition organizations that created a place for us to express ourselves and to make lifelong friendships. There was ASPO (Association of Skatepark Owners) and later CASL (California Amateur Skateboard League). We would compete in pool, freestyle, slalom and sometimes even downhill. There were age divisions and a overall point standings. It gave us the opportunity to try out all the skateparks in southern California.
Tony Hawk, Chris Miller and I all turned pro at the Rusty Harris Pro-Am Skate City contest in 1982. Back then we just had to check a box on the entry form that we were competing as a pro. We were pro now... it was as easy as that.
So the parks of the 70's and 80's started closing down. Guess it had to do with insurance issues. I don't know for sure but I sure was bummed out when all my favorite parks were disappearing. Del Mar Skate Ranch and Upland Pipeline were the only two concrete parks left in the end until their final demise. Vert ramps started to become the norm for us. Many contests and demos were being held on vert ramps throughout the world. Some of my favorite vert events were in Virginia Beach, Canada, Münster Germany, Australia, Alabama and Arizona. We all started to get some big sponsors and started to make some big money as pro skaters in the mid 80's.
Well, Vert died down in the late 80's early 90's. My skate spots were disappearing. Sadlands was destructed by the city in order to directly stop us from skating it. The rumor I heard was that a kid broke his arm at Sadlands and the family sued the city. Losing Sadlands was a hard hit for me. I also remember one of the last vert ramps near me to skate was 1 1/2 hours away in Moreno valley. There wasn't much locally for me to skate anymore.
I didn't skate much after 91-92 so I got a job and went to college. I ended up repairing computers and setting up networks. I did a little rolling around on the street but no more transition skating. I started to get heavily into skim boarding at Balboa Beach and Laguna Beach. I also got serious about snowboarding. I did go to watch a couple of vert contests during the mid to late 90's. I saw the Hard Rock Cafe vert contest in Newport Beach and I also watched a vert contest in Seal Beach. Lincoln Ueda was my favorite skater to see skate during that time. He blasted so much air and he's still amazing to watch these days.
Once the 2000's rolled in, I started to hear about many concrete skateparks being built. I couldn't resist getting back into it and checking out all these new parks. The first new skatepark I rode was Chino. Then it was just park after park after park. I really couldn't believe that all these skateparks were being built all over the place. It was unimaginable and seriously a dream come true. It truly is a great time to be a skateboarder.
What have you been up to lately?
It's all about taking care of my two children these days. They are so cool. My son is 4 and my daughter is 1 1/2 so everything revolves around them. Dang, I have been changing diapers for four years straight now.
Sometimes, I'll go skate Grosso's vert ramp at the vans corporate headquarters. Occasionally, I will skate the combi pool at Vans Orange.
And what are your Top 3…
Foods: I'm vegan and I would say bean burritos, rice n veggies and a lot of apples.
Bands / Artists: Agent Orange, The Clash, and The Ramones.
Activities: Skating, Yoga and chasing my kids around.
People: Wife, son and daughter.
Memories: Tom Sims calling me and asking me to ride for the Sims Team, Watching the Big-O Gold Cup contest from under the bleachers and making truck copers out of shopping cart handle covers with my cousin Terence.
Dreams or goals: I guess I'm living my dream (skating with my same friends from 40 years ago and raising my kids)... I can't ask for more.
Books: The Grapes of Wrath, Of Mice and Men, Green Eggs and Ham.
Skate Sessions or spots: My favorite spots were Sadlands, Skate city's clover and Vans Huntington Beach clover... all three spots are gone.
Places you have traveled to: Australia, Japan, and Bali.
Places you want to travel to: Alaska, Egypt, and Iceland.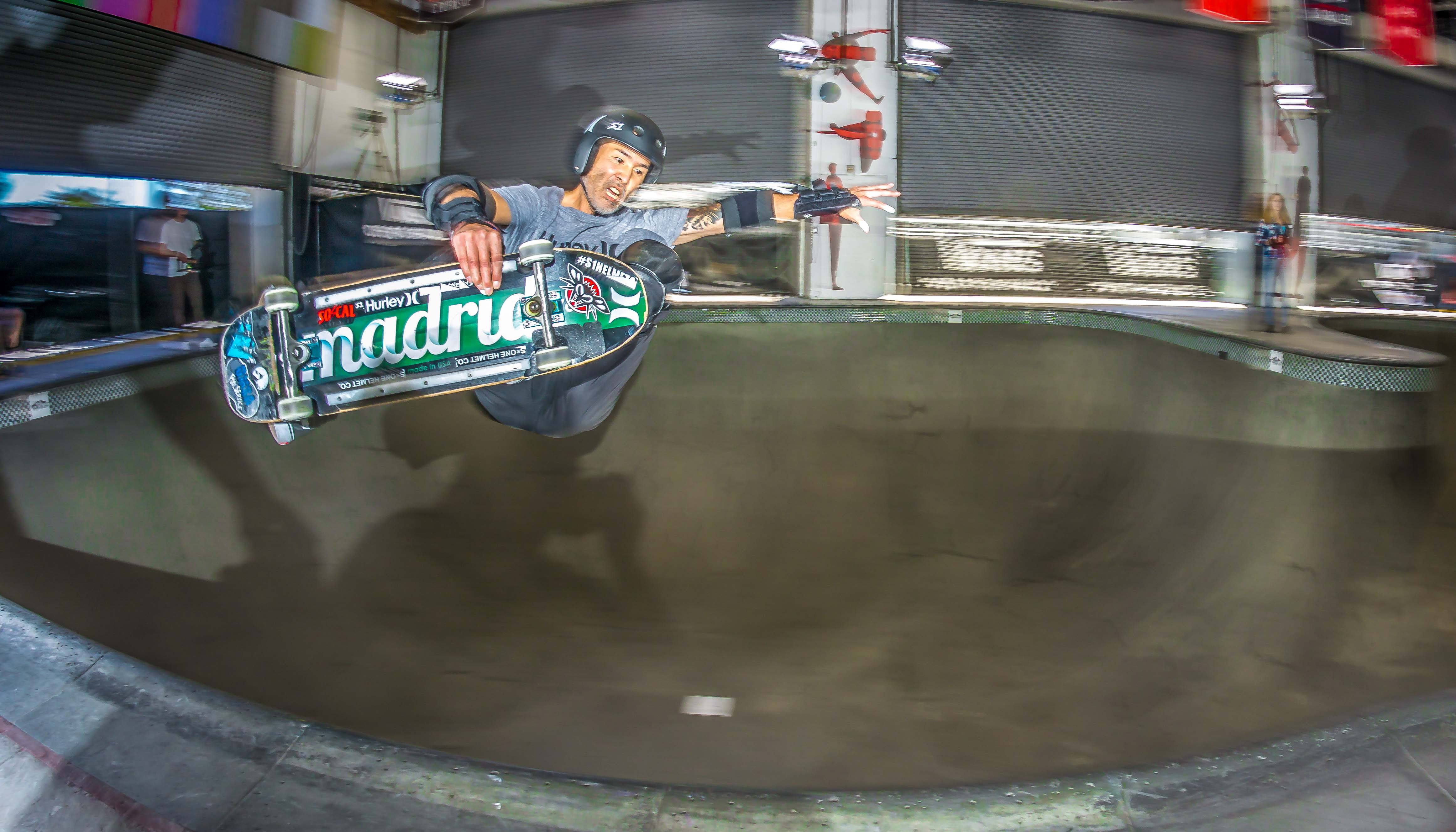 Lester wears the S1 Retro Lifer Helmet. His kids wear S1 Mini Lifer Helmets.