@S1rollerskate - Roller Skating Halloween #S1Costume Contest
Halloween is the day when many indulge in the fantasy of being their favorite hero, the most terrifying character they've seen or simply creating something from scratch. Every year we see more people roller skating with a diversity of styles, skills and hobbies which is helping to grow and enrich the community!
This Halloween S1 wanted to reward the people who put a lot of work to give life to their favorite character and even better while roller skating!.
The process was simple, we opened a call throughout the month and at the end a series of votes were made to determine the first three positions. The prizes consisted of a personal voucher redeemable on the www.s1helmets.com page: 1st $100, 2nd $75 and 3rd $50.
We were surprised by the imagination of all the participants from building the costumes to the audio and video editing. It was quite entertaining to see how creativity is not only seen in the skating tricks, but also with each individual and how they developed their costume.
Before showing you some of our favorite references, we want to thank each person who took the time to enter the contest and if you want to see more search #s1costume and you will definitely find some great ideas for your costume next year! Also you can check our our edit of all the best costumes on the S1 Roller Skate Youtube channel here!
1st Place
In the first place we have… @icantrmbranything, who not only surprised us with the quality of her Pennywise costume, but also with the complementary skating shots skating on a wet mini ramp (this is the scariest thing about the video, most of us agreed in the post). Watching Pennywise skating was a complete show that we enjoyed from start to finish! A totally deserved first place for our first ever costume contest!.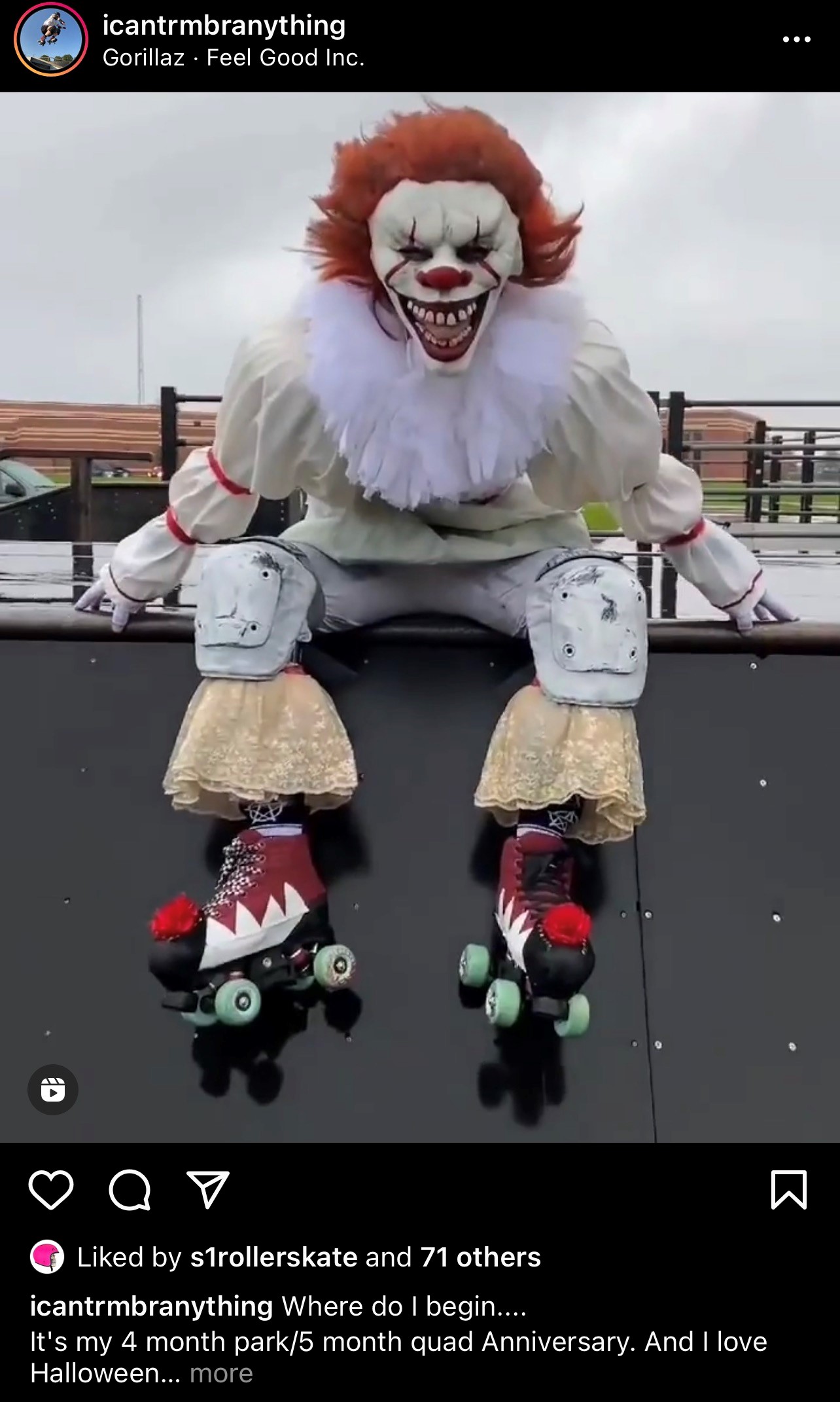 2nd Place
@ nico.sk8s ____ won second place with a costume that gifted us a flashback to our youth. Nico's impersonation of Regina Rocket from Rocket Power just nailed it! This is a show that surely inspired a whole generation to practice skateboarding, BMX, rollerblading, and/or practically any extreme sport with friends. Great choice!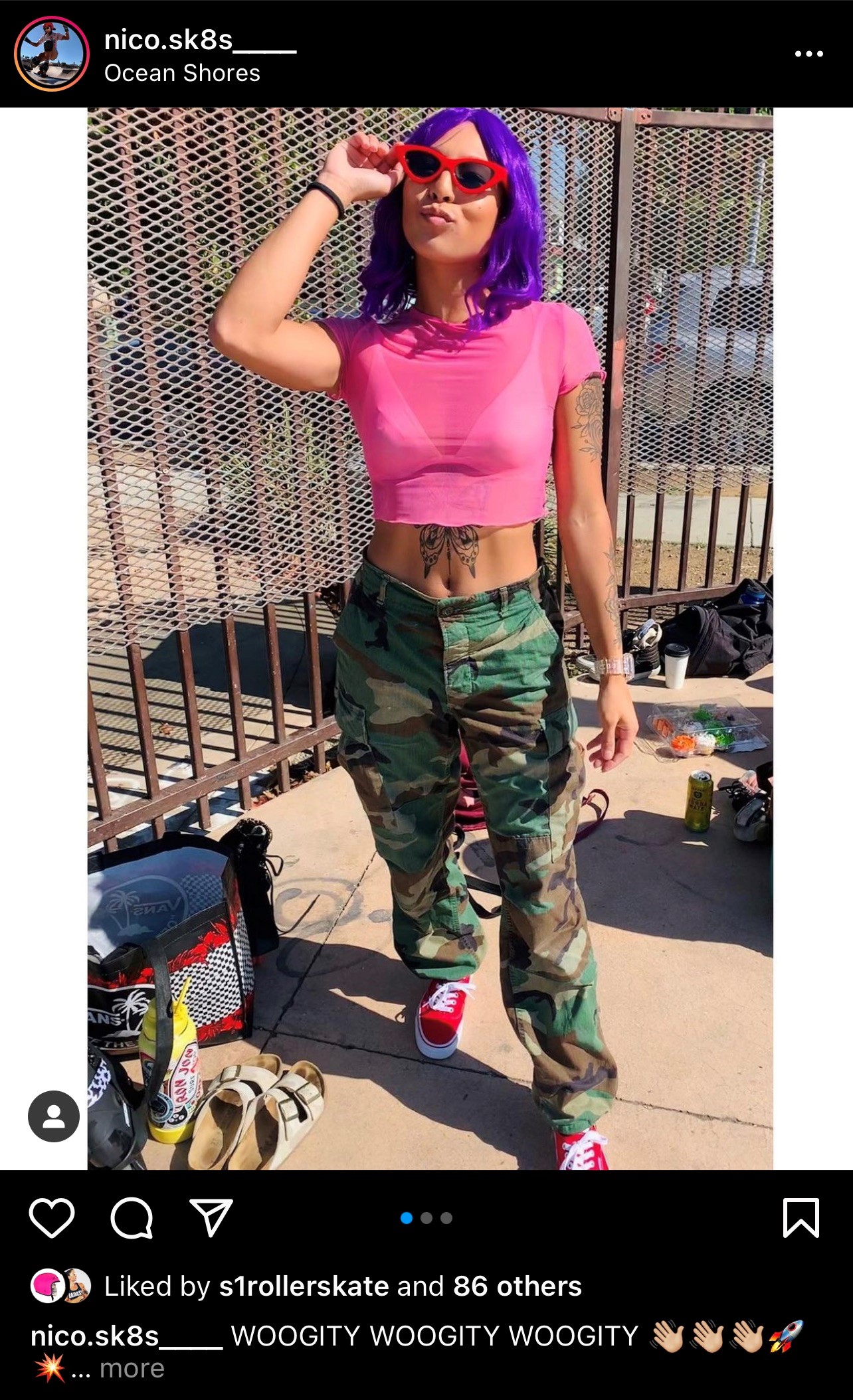 3rd Place
Third place went to @punannie_skates , this entry was a really fun watch, we're sure that if we could skate in hospitals we would definitely do it like this! LOL. Also, the music choice = on point.
Annie wears our S1 Lifer White Gloss with Black Stripes helmet.
Honorable mentions:
@rubyrollerskates made all her costumes by hand! In addition to her joy for skating, seeing the work she put into each one of her costumes is simply breathtaking. We look forward to seeing what new things Ruby will bring to her skating and creative journey.
Just to mention some of the costumes: Ghostbusters, Harley Quinn, Avatar, some characters inspired by Doja Cat and her album "Planet Her", and the list goes on! Check out Ruby's profile for more ideas!
Ruby rocker the S1 Lifer Helmet in Blood Red!
@skating.back.sunday deserves great recognition for her choice of music and performance of "Jessy" in her entry which does not miss a detail and looks just like a commercial from the 80's! Click her IG handle for the full video and click here for Kristin's profile!
Thanks to all the participants again, we love to see more facets of the community!
Would you like to see a specific contest? Let us know!